Skip to Content
Graphic Design Opens the Doors to a Visual World
Words and pictures combine to deliver your marketing messages and graphic design is the art that pulls them together. 1844LetsPrint has a cadre of professionals to provide graphic design elements for all your projects — brochure design, flyer design, postcard design, and custom challenges. Bring your "what if" questions to us and our artists will show you how to bring your ideas to life on a page. Graphic design elements may include photos, drawings, or fancy letters — a creative graphic design may use all three.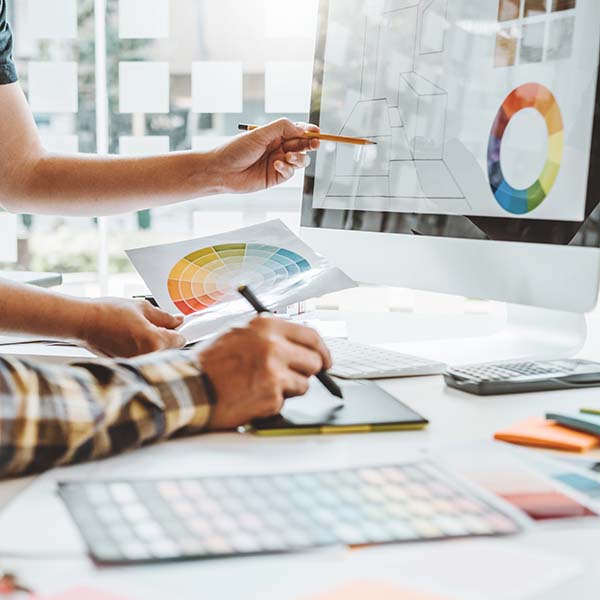 Accepting the Challenges – Embracing Your Ideas
The 1844LetsPrint graphic design team is ready and eager to accept the challenges of your ideas. Whether for postcard design, brochure design, flyer design, or most anything else – need a banner? We can help. With today's computers and digital media, many people are working on their own graphic design projects — and often they get in over their heads. No worries, we're ready to step in and work with your files to repair where necessary and make them work for the project you have in mind. 1844LetsPrint graphic design pros can adjust and repair file errors in all the most common photo manipulating, retouching, layout, and illustration programs. If you're stumped on a postcard design, a brochure design, or a flyer design, give us a call. We're here to help.
Do you have a presentation or an industry event that really needs a "wow" factor? Nothing provides that "wow" better than an exceptional full-color printing job on top-quality paper that translates a good idea into a great look. 1844LetsPrint graphic design puts the art into your presentations, give us a call and we'll show you how.
Let Us Help With Your Next Project