Skip to Content
10 Coupon Ideas for Effective Direct Marketing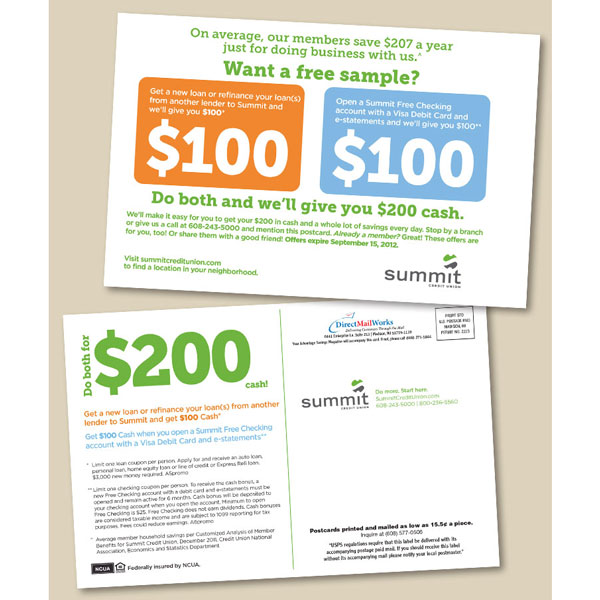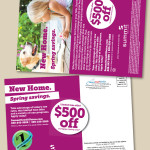 Direct marketing, and direct mail specifically, can deliver your message to a target audience like a laser beam.
However, getting to the right people is only half of the battle. Getting a response from a group of prospects is an entirely different matter. The offer you provide those prospects will be the incentive for them to respond to your direct marketing effort.
Your challenge when using direct mail is to develop an offer to motivate your prospects by giving them an offer they can't refuse. Of course, your business situation is unique so the offer you create must be appropriate for your operating circumstances.
However, in the interest of getting the creativity flowing, below we've listed a number of coupon marketing ideas and strategies to jump-start your creating coupon marketing process. Remember, no direct marketing effort can be successful without a profitable response.
Direct Mail | Coupon Marketing | Madison WI | 1844LetsPrint | Milwaukee WI
Dollars off coupons get a great response
And, to put your program into complete perspective, no direct marketing effort can be completely successful unless you not only get the first customer visit but deliver on your offer and have a satisfied customer. Satisfied customers become repeat customers.
As satisfied customers, they multiply their value in terms of additional word-of-mouth promotion. The lifetime value of your customer is really what you are capturing with a well-conceived direct marketing program. (Lifetime Value of a Customer Calculator)
Your direct marketing effort is not a one-time event, but the start of a long-term relationship if done well. Great offer, great
Create Your Irresistible Offer
Don't nibble around the edges – if you offer discounts, be bold – "60% Off" – high percentage off offers work best when the product or service is well known – otherwise dollars off may be more effective such as "$25 off". Again, don't nibble, be bold.
Use a Bonus – such as "2 for 1" or "Buy One/Get One Free!", or a free companion item with a purchase. The perceived value may be more than the actual cost. You and the customer can both win.
Entice with Premiums – offer a reward for and action. Some item or service with an action – for a first time order, a trial, a referral or an upgrade of an order if done by a deadline.
Free Information – when an involved or a an expensive decision has to be made, more information is an important commodity. Booklets, guides, estimate, samples, trials, consults and depending on the situation even free quotes can be of great value.
Grab Attention With Bold, "In Your Face" Headlines!
"Don't Be Ripped Off When Buying _________ – Get This FREE Guide"
"$20 Off Any $50 Purchase"
"2 For 1 Burgers"
"Buy One Dinner Entree – Get One FREE!"
"Rent Two NEW RELEASE Movies – Get The Third FREE!"
"Buy Three Ink Cartridges – Get the Fourth Cartridge Absolutely Free!"
Use Images to Tell the Story
Try to show your product in-use.
Images that help explain improve credibility and understanding as well as create interest.
Include Your Logo in a Coupon
Build your company awareness and enhance your image
Increase credibility of your offer
Improves response
White Is Right – Don't Be Afraid of White Space
Make it easy for prospects to find your offer
Don't cram 15 pounds of words into a 10 pound coupon!
Tell Them How You Can Help – Sell Benefits
Products and services only have value when they deliver a benefit to a customer – save time, save money, increase profits, protection, live better, live longer, be happier, improve health, increase income, increase comfort, convenience. Always appeal to your customer's self-interest.
Excite Prospects With Advertising's Most Powerful Words
Free, easy, simple, save, new, proven, fast, guarantee, results, now, how to, money, you, love, discovery, amazing, sex, profit.
Sell – Always!
When a customer requests information or places an order – offer additional related items. Mention the benefits of an upgrade item.
Take a Nap With Every Response – Name – Address – Phone
Always try to capture your customer's name, address, cell number, and email address. Use this information to develop an in-house mailing list, text list, or emailing list. Your customer list represents your most valuable asset. Your greatest potential for profitable sales is with customers who know you and like doing business with you.
After Your Nap – Communicate
Create an ongoing program of follow-up contacts to your customer list.

Use invoice stuffers, email update, text promotions, new product announcements, special sale flyers, preferred customer sales and discounts, customer appreciation events, more coupons. Keep your customers coming back to YOU!
Direct Marketing Planning Assistance
The direct marketing rules above will help you create a powerhouse direct mail marketing program. When you set the foundation in place, you will be able to promote to customers and prospects through direct mail, emailing, text marketing programs, and in-store promotion.
For assistance on your direct marketing program, direct mail design, or assistance with lists or other direct marketing-related activities, please contact your direct marketing pro at 1844LetsPrint in Madison WI.