Skip to Content
Target Marketing – Building Buyer Behavior With New Neighbors Using Direct Mail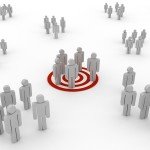 Target marketing to "new neighbors" in your market area is an efficient and powerful use of direct mail.
Imagine a customizable direct mail program designed to allow you to connect with new arrivals in your market area to begin building buyer behavior in a positive way. By using timely target marketing techniques, you deliver to the specific demographic group you value very aggressive offers each month.
This type of target marketing program gives you the opportunity to build a relationship when customers are open to new options. Because these consumers have no established buying patterns in your market area, you have a great opportunity to build repeat business and turn a one-time customer into and loyal repeat customer.
Building Your New Neighbor Business With Target Marketing
The target marketing pros at 1844LetsPrint help develop and manage scores of the New Neighbor direct mail program every year. The reason the new neighbor program is so popular is that it is so flexible. Consider the following components every New Neighbor program has.
You mail to only the demographic group you want including income, age, family size, age of family, marital status, homeowner, home value and more.
You mail to only the geography you want to target so you are not limited to zip codes, carrier routes, concentric circles, or other unnatural delivery areas.
You deliver an extremely attractive offer to all targeted new arrivals BEFORE any competitors.
You will be able to reliably project the inflow of new neighbors on an annual basis so budgeting will be predictable.
You spread your budget out over a 12 month period – not a "one and done" mailing.
You begin the process of building a satisfied customer.
With great service you can turn new customers into a repeat customers.
Statistics show the average person moves every seven years – the New Neighbor program allows you to continually capture the new arrivals consistently.
Best of all, consider the value of a customer over the course of the seven years the average person/family lives in their new home.
Target Marketing Aimed at New Neighbors Is Direct Mail at Its Best
The scope of a New Neighbor program is quietly stunning. Most businesses know once a customer relationship has been built, repeat visits are a natural result. Below is an example of how to project the results of a New Neighbor direct mail program.
Using a Restaurant as an Example, Let's Use the Following Assumptions for Our Projections –
$22 – the average revenue per sale
$14.30 – the average gross profit after cost of food
325 – sales per week
16,900 – transactions annually (325 x 52)
3500 – customer base
4.8 – average sales/customer annually (16,900 / 3500)
$68.64 – average annual gross profit per customer
$480.48 – lifetime value of a new customer ($68.64 x 7 years)
Now, with your target marketing program, let's make a couple of projections. Assuming you deliver 3,000 New Neighbor postcards annually, with the average annual gross profit being $68.64 per customer, in year one see the gross profit you will achieve. A five percent return will generate a $10,296 gross profit. According to the 1844LetsPrint statistics, the range of returns on New Neighbor programs has ranged from 5 to 14 percent.
If those satisfied customers continue returning to this restaurant, over the course of five years the gross profit will be at $51,480 with a 5% return from the initial mailing. The opportunity is much higher if the return rate is more as you can see from the table below.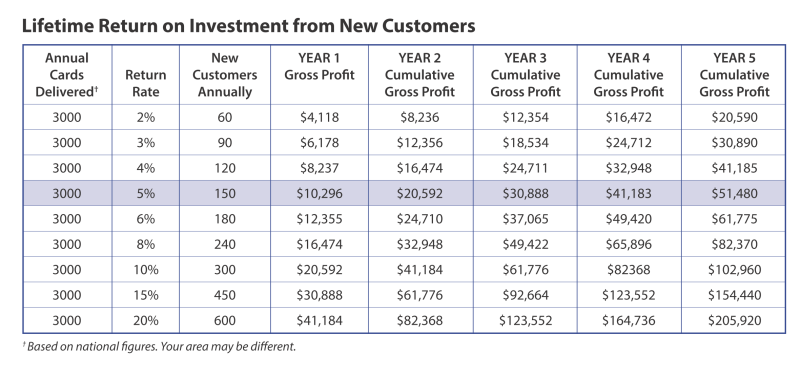 If your goal is to generate more revenue in a measurable way, adding a targeted marketing direct mail strategy to your marketing mix is a great option.
For more information about target marketing and specific direct mail strategies, contact our Madison WI office. We also serve greater Wisconsin including cities such as Milwaukee, Green Bay, Oshkosh, Appleton, Wisconsin Dells, Stevens Point, Wausau, Lacrosse, Eau Claire, Neenah, Menasha, Fond du Lac, and more. We develop postcard direct mail marketing programs for businesses throughout the United States.
Email or call 844-538-7774 if you have any questions about 1844LetsPrint, direct mail, or target marketing strategies in Madison WI.